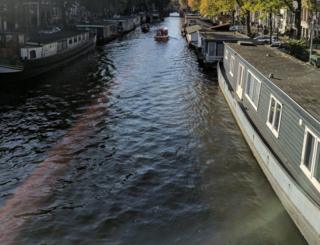 Google is developing a software fix to address excessive lens flare on photographs taken with its flagship Pixel smartphones.
A group of Pixel owners shared their pictures showing a bright halo or arc effect, on Google's messageboard.
Google's advertisements say the Pixel devices have the "highest-rated smartphone camera ever".
But some users were alarmed that Google was trying to solve a hardware issue with a software fix.
Lens flare can happen with all camera lenses, but comparison shots with rival smartphones suggest the Pixel suffers with the problem more frequently.
Gadget reviewer Jeff Springer highlighted the severity problem in a video on YouTube.
He said it was "concerning" that the lens flares appeared even when a scene was lit without a "powerful light source".
"It's definitely something that's going to be annoying, as it ruins the entire photo," he said.
At a launch event in October, Google said the phones had received the highest-ever score from DxOMark, which measures camera performance.
The test acknowledged that "flaring was sometimes an issue when shooting in full sun," but did not identify an issue with other light sources.
Google said it was developing software that could spot the issue and compensate for it.
"We're working on some algorithms that recognise the halo/arc flare, characterise it mathematically and then subtract it from the image," said Google's Isaac Reynolds.
"There is no point getting your device replaced thanks to this issue…all Pixels have the same flare characteristics.
"You can expect a software update in the next few weeks that will improve the effects of this issue."
However, some owners were not impressed with the response.
"Google are trying to fix this with a software algorithm! Hello, has anyone thought why did this get through quality control and development stage of the camera?" wrote Barry Smallwood.
Bernard Maltais added: "Sad, but I just initiated a return for the phone. I can't gamble C$1,000 ($750, £610) on a phone with such an issue, based on a potential software fix."
---
Do you have a Pixel smartphone? Are you having problems with the photographs it takes? Email haveyoursay@bbc.co.uk with your stories and pictures.
Please include a contact number if you are willing to speak to a BBC journalist. You can also contact us in the following ways:
·WhatsApp: +44 7525 900971
·Tweet: @BBC_HaveYourSay
·Send an SMS or MMS to 61124 or +44 7624 800 100
Google tries to resolve Pixel camera flare issue