HULL—N'West Iowa's only mobile slaughter company is open for business.
Curtis Van Grouw of Hull recently opened Old Parlor Meat Company, a custom meat-processing business with a unique twist: Van Grouw travels to the animals when it's time for slaughter.
"Initially, the reason I went mobile is it's different," Van Grouw said. "There's only one more in the state of Iowa. But it also saves time and there's less stress on the animal."
His mobile slaughter service is Van Grouw's answer for livestock owners who have struggled to get their animals processed after local lockers experienced a surge in demand brought on by the coronavirus pandemic.
The mobile slaughter truck is equipped with a refrigerated unit and a rig for hanging carcasses — everything Van Grouw needs to travel directly for farms and do slaughtering on site.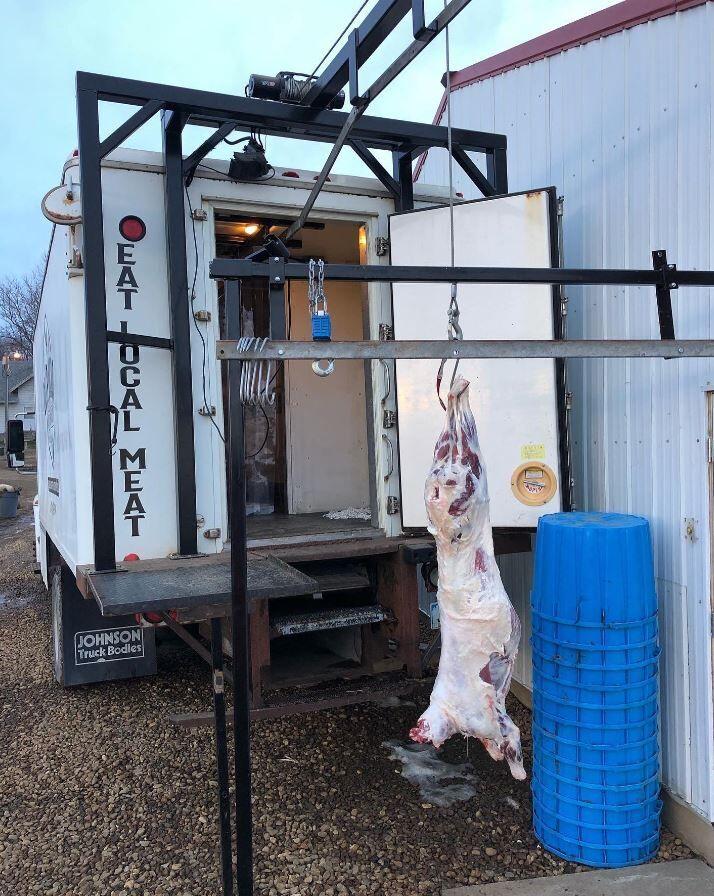 It's a time saver for livestock owners, who might otherwise have to travel several hours to get to a locker that has room to process their meat.
At the moment his customers are within 30 miles of Rock Valley. Van Grouw said he's willing to travel, although the farther he has to go for a slaughter the more it will cost.
"We're just getting started, so I'm learning as I go how far people will call me out," he said.
After a slaughter, Van Grouw will load the carcass into the mobile truck and bring it back to his permanent location on his family's farm between Rock Valley and Hull where he has coolers for aging meat and other equipment needed to cut, trim and grind meat to his customer's specifications.
Van Grouw mainly does beef and pork, but also offers lamb and goat processing. His cuts and products are all fresh.
"Down the road I plan to offer smoking bacon or curing, but basic is the name of the game right now," he said.
Van Grouw started scheduling slaughters just this week, but his phone already is ringing off the hook. Other lockers in the area continue to be booked out through the spring or even the end of the year. Van Grouw said it's likely he'll end up in a similar situation before long.
"I'm not putting a dent in the demand," he said. "I wish I would have started before."
He's still trying to balance how many customers to take at once.
Old Parlor Meat Company is largely a one-man operation, with Van Grouw running the mobile slaughter truck and processing all the meat. His wife, Emily, and his mom, Donna, help with some of the packaging.
"The work is there, it's just 'How busy do I want to be?'" he said, adding that most days he's out at the farm working from 7 a.m. to 5 p.m.
Since passing state inspection in early February, he's done some mobile slaughters for friends and family to work out the kinks of his mobile setup.
"This cold weather, that's challenging," Van Grouw said. "You've got to have running water and have your hands work with cold hide. That's something we'll have to figure out."
Although his mobile business model seems tailored to circumstances brought on by COVID-19, Van Grouw had been planning to open a mobile slaughter business months before the pandemic began.
And although he grew up around livestock and helped his dad slaughter animals, Van Grouw, who is 30, never planned to open a slaughtering and meat-processing business.
"I didn't grow up dreaming to be a butcher. I grew up dreaming to be a dairy farmer with my dad," he said.
That dream fell apart in 2011 when his dad, Lee Van Grouw, had to close down his small dairy operation between Rock Valley and Hull due to rising costs. The name of the business is a nod to that dairy history, referencing the milking parlor and dairy barn that Van Grouw partially renovated last year to house Old Parlor Meat Company.
"It's an homage to my dad, to keep the dairy roots in it," he said.
Renovating the space took the better part of a year. The finished space, although small, is perfect for Van Grouw's needs.
He's particularly happy with the trolley system for transporting meat from the truck to coolers or to his cutting table. The system was designed and welded by family friends Henry and Harrison Van Maanen of Doon
While renovating, Van Grouw also worked part-time as a meat cutter for Woudstra Meat Market in Orange City to gain experience, his only formal training in the business and a valuable asset to him now.
"It was just good to see the flow, the process," he said.
While custom meat-processing isn't the family business Van Grouw imagined he'd be running, he wants to use his business to help people understand where their meat come from.
Emily runs a Facebook and Instagram page for Old Parlor Meat Company that shares information about meat processing and how meat gets from the farm to the store or table.
"Meat seems like it's a bit of an intimidating thing," Van Grouw said. "Social media is a great way to not only get the word out but also answer questions and be a resource."
Source link