BRISTOL, Va. — While the proposed Bristol Resort and Casino remains on hold pending action next year by the Virginia General Assembly, a series of Rosie's Gaming Emporiums are opening across the state, offering a casino-like experience with blinking electronic games and off-track wagering on simulcast horse races.
The third Rosie's — the largest yet — opened Monday in Richmond. A fourth is slated to open in October in Hampton Roads, and the owner — Colonial Downs Group, which operates the Colonial Downs horse track in New Kent east of Richmond — is licensed to open up to 10 across Virginia. That is the same number of off-track betting sites the track previously operated and plans call for all to be open by 2022.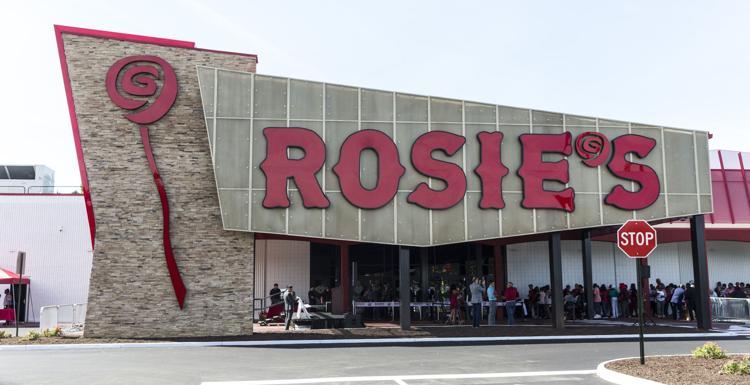 Rosie's offers electronic gaming virtually identical to slots except the chance factor is based on historical horse racing results. This same type of betting is credited with generating substantial revenues for the equine racing industry in Kentucky, and Rosie's will direct a dedicated funding stream to the Colonial Downs track, which, starting Aug. 8, is slated to host live racing for the first time since 2014.
The Virginia General Assembly approved the gaming and the sale of the track in 2018 in Virginia House Bill 1609. It specifies that gaming parlors can only operate in communities where pari-mutuel wagering was approved by public referenda.
But does Rosie's have a leg up on cornering the state's gaming market?
"I wouldn't say it's a head start," Gov. Ralph Northam said when asked by the Bristol Herald Courier during a recent visit to Abingdon. "The General Assembly approved Colonial Downs reopening. Part of that package was the slot machines in different localities across Virginia. They are doing very well. We just want to make sure — as we move forward with casinos, with gambling in the commonwealth of Virginia — that we do it responsibly. As governor, that's a priority of mine."
Northam successfully lobbied to postpone 2019 legislation to allow full-scale casino gaming with a local referendum, so the state could conduct a comprehensive study of gaming regulations and policies nationwide.
No other casino, including the one proposed for Bristol, can proceed until Virginia's Joint Legislative Audit and Review Commission completes its study and then the Virginia General Assembly takes action in 2020. If lawmakers approve the legislation, it opens the door for localities to schedule referenda — which would be the final approval for any casino project.
The group planning to develop the Bristol Resort and Casino issued a statement in response to a request for comment.
"The legislature approved the 'Rosie's model' with one purpose in mind, to save horse racing in Virginia. Our efforts aim to serve a much broader goal. Bringing a destination resort and casino to Bristol [and a very limited number of other similarly situated cities] will benefit those communities and entire surrounding regions, in a meaningful way. These benefits include a significant number of new jobs and additional tax revenue to those localities."
A 2018 Chmura study forecasts by 2027 the $250 million Bristol Resort and Casino project could generate a $1.5 billion annual economic impact, be responsible for 10,500 direct and indirect regional jobs and contribute $69.5 million in annual tax revenues — $41.2 million for Virginia and $26.8 million for the localities.
"In comparison, the 'Rosie's model' was never intended to be an economic development tool that brings a substantial level of jobs and investment into a community. All the Rosie's facilities combined do not bring the level of jobs and local tax revenue as one of the fully amenitized resort and casinos our legislation contemplates. Any expansion of the Rosie's slot-like parlors to be more like a casino should be evaluated in light of the legislation that passed last session and that will be proposed next session," states the Bristol group's response.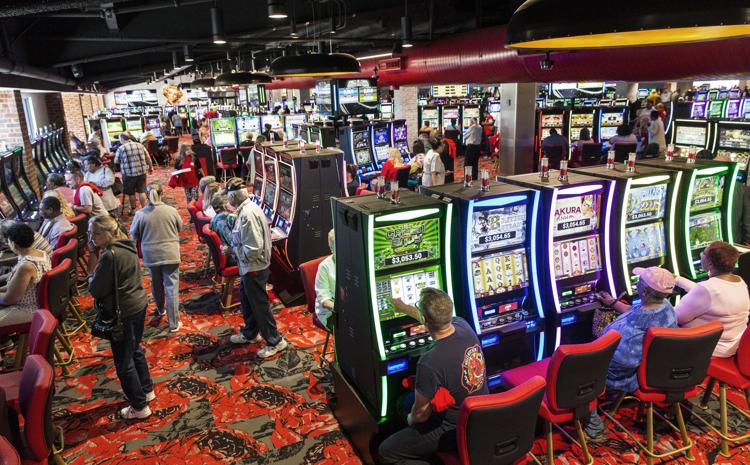 Earlier this year, Colonial Downs Group announced it intends to invest $300 million in Virginia facilities this year and create 800 jobs. Those investments are forecast to generate $25 million per year in state tax revenues, $17 million in local tax revenues and $25 million annually to Virginia's horse industry, according to the company.
Attempts to speak with a representative of Rosie's were unsuccessful.
Historical horse racing
Rosie's patrons can wager between 20 cents to $15 per play on each historical horse race but the screen and interface have the look and feel of traditional slots.
Rather than randomly generated numbers for each play, the games are based on 90,000 past horse races so the machine's games randomly generate those results. Players may either pick horses in each race or hit a button to guess the winner.
The Virginia Racing Commission established a statewide cap of 3,000 HHR machines, but that number can be revised.
Earlier this year, the Colonial Downs Group announced it has contracted with Florida-based Exacta Systems as the exclusive supplier of HHR gaming systems — the same firm that is providing systems to Kentucky gaming facilities.
Commission regulations allow up to 700 machines at the Colonial Downs track and have a scale for other sites. Rosie's locations in larger cities, including Richmond, can have up to 700 machines; communities with between 60,000 and 120,000 residents can have up to 300 machines while towns and cities with less than 60,000 people are restricted to 150.
Rosie's Emporiums
Virginia's third Rosie's Gaming Emporium opened Monday in Richmond in a 140,000-square-foot former Kmart building on Midlothian Turnpike in the city's south end.
Other locations are in New Kent — at the Colonial Downs horse track — and Vinton, just east of Roanoke, in the former Colonial Downs satellite wagering facility on Vineyard Road.
"It is very exciting to be opening our third Rosie's in Virginia," Aaron Gomes, chief operating officer of Colonial Downs Group, said in a written statement. "We are already seeing tremendous success in New Kent at Colonial Downs and in Vinton. The Richmond location builds on our commitment to create hundreds of jobs and generate significant tax revenues across the Commonwealth by bringing together gaming enthusiasts, horse lovers and the community to experience an exciting and fun activity."
The company said it invested $41 million into the Richmond facility, which features 700 historical horse race games — the most of any Rosie's location yet — and live streaming of horse racing plus a restaurant, bar and gift shop. It is expected to generate $15.5 million annually in taxes, with more than $11 million going to the state and $4 million to the city, according to information released by the company.
The New Kent location opened in April, and, with its 600 slot-style machines, restaurant and bar, is forecast to generate $15 million in taxes per year, according to the company. The Vinton location opened in May and has 150 historical horse racing games.
Bettors wagered more than $85.8 million on those games in April and May 2019, according to reports filed with the Virginia Racing Commission. That includes $73.3 million bet at Colonial Downs and $12.5 million in Vinton, generating $5.7 million for Colonial Downs operations and more than $916,000 for the state and localities.
All Rosie's Emporiums are scheduled to operate nearly around the clock. Existing locations operate from 8 a.m. until 2 a.m., Sunday through Thursday, and 8 a.m. to 4 a.m. Friday and Saturday.
Other markets
In Hampton Roads, the Colonial Downs Group is refurbishing a former NASCAR Café and adjacent bar in the city's Power Plant shopping, dining and entertainment district. That location is expected to open in October.
In March, Colonial Downs Group decided not to locate a facility on a vacant lot near Interstate 64 and Battlefield Boulevard in Chesapeake.
On May 30, Colonial Downs Group announced it submitted paperwork with clerks of court in Danville and Prince William County to begin the process for voter referenda to allow pari-mutuel wagering in the city of Danville and the town of Dumfries, near Quantico.
Virginia localities that have not already approved pari-mutuel wagering are required to hold a voter referendum before a pari-mutuel facility can locate there. Getting that referendum on the ballot requires petitions with the signatures from at least 5% of qualified voters in each community. If the court approves those petitions, Colonial Downs Group said it plans to coordinate signature drives in both communities.
"Since we announced the reopening of Colonial Downs in New Kent and the revitalization of thoroughbred horse racing in Virginia, a number of communities have expressed interest in opening a Rosie's to create jobs and tax revenue for their residents," COO Aaron Gomes said in the May written statement.
"Danville and Dumfries are both vibrant and emerging communities that are looking for the new kind of entertainment in Virginia that Rosie's delivers. Those are the kinds of communities in which we want to be located, and we're excited to go out and share with voters in both localities what we're about and what we do and let them decide if they'd like to be home to one of our facilities," Gomes said.
In January, the Danville City Council voted its support for a possible casino and joined with the city of Norfolk as part of the Bristol casino legislation.
Colonial Downs Group
The Colonial Downs track was purchased for more than $20 million in 2018 by Revolutionary Racing of Chicago and its financial partner, Peninsula Pacific Entertainment, LLC [P2E]. The private California company received a bond rating of B3 [lower, not prime] last October from Moody's Investor's Service for the company's financing to complete its purchase of the horse track and expanding its off-track holdings, according to a Moody's report.
The package included a $220 million, six-year first lien term loan and $25 million, six-year delayed-draw term loan. Moody's assigned a Ba3 [speculative with credit risk] rating to the company's $20 million, five-year priority revolving credit facility. The rating outlook is graded stable, according to the report.
"Proceeds from the proposed $265 million credit facilities will be used to purchase the remaining 51.5% equity interest in Colonial Downs Racetrack that it does not already own, fund the redevelopment and installation of Historical Horse Racing 'HHR' terminals at Colonial Downs, and fund the development of the first four of 10 satellite wagering facilities that P2E is licensed to own and operate," according to the 2018 Moody's report.
Native American gaming
In addition to the Bristol project, the Pamunkey Indian Tribe previously announced its intent to establish at least one — possibly two — casinos in Virginia, including one at Interstate 64's Exit 205, 10 miles from the Colonial Downs track.
The tribe is also linked to a proposed $700 million casino and hotel project in downtown Norfolk, at a site near the Amtrak station and a downtown redevelopment.
In 2015, the tribe received its federal recognition to pursue a casino on tribal land or land it can acquire, under the federal Indian Gaming Regulatory Act.
For the tribe to establish a casino in Virginia, the Bureau of Indian Affairs must agree to take the property into a trust. Then the National Indian Gaming Commission must approve a tribal gaming ordinance for them to offer Class II gaming [including lottery], and then the governor must sign a negotiated Tribal-State compact authorizing the more lucrative Class III gaming, which includes slots, card games and roulette, according to national commission regulations.
Neighboring states
Casino gaming isn't currently allowed in Tennessee, but the Eastern Band of the Cherokee — the same group that owns the Harrah's-operated casinos in Cherokee and Murphy, North Carolina — recently finalized the acquisition of 122 acres just off Interstate 40's Exit 407, according to story published in the Knoxville News Sentinel.
That is the primary interstate access route to tourist destinations Sevierville, Pigeon Forge and Gatlinburg and about a 90-minute drive from Interstate 81's Exit 1 and the proposed Bristol casino project.
Other casinos already operate in the region. The existing Harrah's Cherokee Casino in North Carolina is less than a three-hour drive from Bristol and Mardi Gras Casino, near Charleston, West Virginia, is less than four hours away.
A casino has been proposed for Jenkins, Kentucky, but casino gaming remains illegal in the Bluegrass state and legislation to legalize it never escaped a House committee during the 2019 General Assembly session.
However, the historical horse racing games are legal in Kentucky and currently in use at horse racing tracks in Louisville, Lexington, Florence, Henderson and Franklin.
In late April, publicly held Churchill Downs Inc., reported historic horse racing gaming at its off-track Derby City Gaming site in Louisville generated $7.6 million in adjusted earnings on $18 million in revenue during the first quarter of 2019.
Those HHR machines could eventually come to southeast Kentucky. In 2015, Churchill Downs and Keeneland jointly proposed establishing a new horse racing track named Cumberland Run in Corbin — just north of the Tennessee line off Interstate 75. The tracks also proposed a Cumberland Run gaming center, featuring historical horse racing electronic games at the same site, within a three-hour drive from Bristol.
The Associated Press and Richmond Times-Dispatch contributed to this report.
Source link